🤖🚫 AI-free content.
This post is 100% written by a human, as is everything on my blog. Enjoy!
Readable Google Reader
August 17, 2011 in
Projects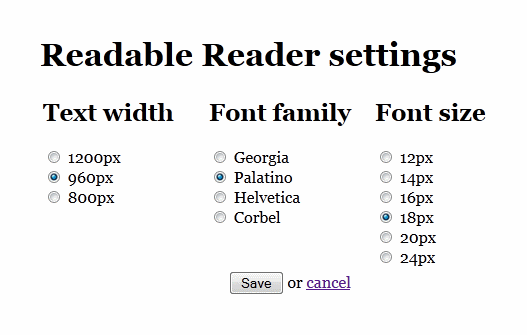 The settings page
Each week my Google Reader receives about one thousand articles. I try to at least skim all of them.
The default Reader article formatting is so horrible that I find it easier to read them off my iPod (with Byline). One thing that's especially horrible on a 1080p monitor is that the text is 100% wide. If it would be some blog I'd use Readability to fix the typography. But Readability doesn't work with Google Reader
So I made Readable Google Reader - a userscript that does the same thing as Readability but for Google Reader articles. It allows you to choose font family and size, and the text width, with a convenient settings page.
I recommend using this with the Google Reader Minimalistic userscript, which hides the useless header from Reader.
The userscript is tested in Firefox with Greasemonkey and in Chrome.
Liked the post? Treat me to a coffee